womennet.eu
share skills and fun

Since womennet.eu addresses women of all nationalities, we have chosen basic English as the language of communication. We apologise towards all those whose mother tongue is not English. Do not hesitate to join us, communication is more than words...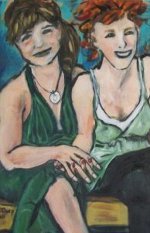 Acknowledgements
Many thanks to Anka Van Dorp, Sarah Bishop and Andrea Braun-Radnedge for the art work that is giving some colour to this website!
Welcome at womennet.eu in Central Portugal
Would you like to meet other women in your area? Do you have interests and skills you would like to share?
Womennet.eu is a communication and networking platform for women in Central Portugal. We want to create a space for new friendships, mutual support and inspiration by means of meetings, trips, workshops and a skills exchange project.
The idea for womennet.eu was born from the experience of social isolation and a lack of opportunities to meet other women and use our skills in a rewarding way.
Womennet.eu is for all those women in the area who would like to have more contact with other women. Who feel they have to offer something. Who are curious and open towards new things. Who have lived here for long or have only just arrived, or spend only holidays here.
Although the base for womennet.eu is located in Central Portugal (near Pedrógão Grande), the medium of the internet allows for contacts over any distance. There is a room in Pedrógão Grande that is available for meetings, workshops, womennet celebrations etc.